Seamless Decorative Flooring in Fairfield – Fairfield Community Centre
Centre has healthy outlook with refreshing flooring solution.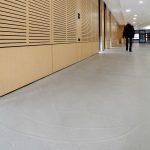 When it comes to health, fitness and well-being, Fairfield Leisure Centre has been pinpointed as a key place to revive one's vigor.  This spacious, contemporary facility, located in the heart of Fairfield in Vine Street, is home to a multitude of quality facilities and services, including a spacious gymnasium, aerobics studio, steam room, crèche, 25 metre heated indoor swimming pool, 50 metre outdoor swimming pool, baby pool, the spectacular and fun Aqua Play Water Park, and multi-purpose indoor sports court.
However, management made the decision to refresh the look of the popular facility to add more functionality, and aestheticism to the prime hub of healthiness for the Fairfield community, and surrounding areas. To integrate the ideals of the Centre and create a reinvented engaging atmosphere, they called on the expertise of Allen Jack+Cottier Architects and renowned wall and floor specialists Honestone.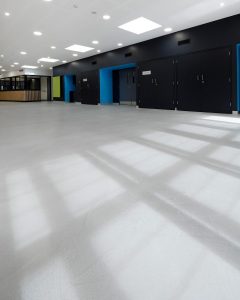 Award winning Allen Jack+Cottier is a leading Australian architectural firm with a profile of work that covers the spectrum of architectural and professional services, including residential and commercial projects. More importantly they worked hand-in-hand with unprecedented leaders in concrete wall and flooring specialist, Honestone. The internationally award winning company is renowned for impressive work, unprecedented time management and a flawless finish.
Director of Honestone, Rick Hendriks, said a 219 square metre area was revived using a product, namely panDOMO Loft, in a "chill zone" area to create an ideal atmosphere that was cohesive with the centre's footprint.  panDOMO Loft was used to spruce up the area and make it user friendly. Loft, he said, is a trowelled down cement finish that is tinted to a selected colour. Centric to the Fairfield Leisure Centre's needs, a top standard panDOMO Loft colour of light grey was integrated to enhance the facility with a spec of 10/3.1. "Loft is characterised by its evident trowel marks which make each project individual and unique," Mr Hendriks said.
panDOMO is an environmentally friendly, architectural product range of polished cement finish, he said. Ardex Australia supplies the ingenious solution of panDOMO Loft to exclusive and elite suppliers and Honestone is at the top of the list.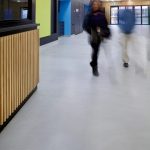 "Our expertise derive from high-end polished concrete solutions, concrete floor preparation, industrial flooring and seamless decorative flooring," he said. "The desirable flooring characteristics of panDOMO Loft (at Fairfield Leisure Centre) generated the perfect amalgamation of functionality, superior design and a lasting finish: The essential requirements of the Centre's prerequisites," Mr Hendriks said.
He said he could put a reputable, highly regarded 'stamp' on the fact that Honestone delivers first-rate, cutting edge, unique seamless decorative flooring and wall solutions for the construction industry, commercial premises, retail and industrial sectors, as well as large scale architectural residential projects.