PanDomo Walls and Floors – Burnett Residence
The exclusive tri-level property was completely revamped from a series of offices into a stunning three bedroom penthouse abode. It included a sizeable lounge, lifestyle dining and kitchen area, three outdoor living spaces, a private lap pool, study, grand entrance and private garage. Not to mention all the luxuries of separate bathrooms, ensuites and walk-in robes.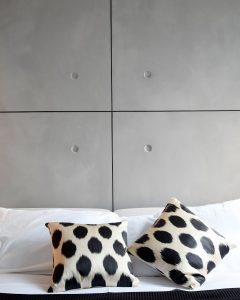 Baker Kavanagh Architects and HTC Builders converted the existing building into a modern, spacious and light filled home. Yet, constraints of the site and the existing building's structure have required innovative and detailed solutions. Flooring and wall solution specialist Honestone was engaged to evoke complex, cutting edge detail to the prestige home.
Honestone managing director, Rick Hendriks, stated "the intricacy and details of the job were in sync with Honestone's reputation for high-end results and seamless project management and solutions. The client wanted an industrial feel so we created some bolt-like indents in the feature walls in the bedrooms and the entrance using panDOMO Wall in a soft grey finish, to replicate precast concrete panels."
Mr Hendriks added "With the floors, we needed to incorporate the client's request for an internal heated flooring system and because of the existing timber floor take into account the weight factor, so we are working with a thin, rapid cure screed. We used a high density polystyrene foam to minimise screed material and weight. Due to the tight space we also used a machine new to Australia called a trailer mounted screed pump which meant we could mix our products in the basement and feed it to the appropriate floors through a line tube."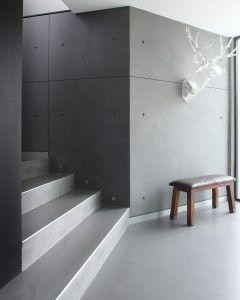 One of the intricacies of the project, Mr Hendriks said "was finishing a stunning suspended staircase feature. The project encompassed in the vicinity of some 300 square metres of flooring and five stunning feature walls."
Baker Kavanagh Architect, Bruna Souto, said "Firstly we would like to say that the top terraces look fantastic! John Kavanagh and myself went to site to inspect the panDOMO topping and walls and we were very pleased with the Honestone craftsmanship. Even the walls are looking great."
To find out more about Honestone's innovative PanDOMO flooring and wall solutions, contact us now on 61 2 4353 0055.