Polished Concrete in Central Coast – Bluetongue Brewery
HERE'S CHEERS TO HOSPITABLE FLOORING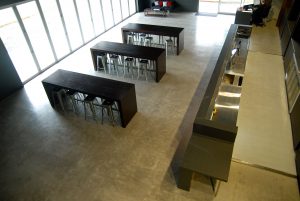 One of Australia's leading boutique beer brands, Bluetongue, started the way many great things start … as an idea, in a pub, over a beer with mates.
The idea back then, in 2003, in the heart of the Hunter Valley, was to brew a premium Australian beer for the modern palate, in a location where it was needed the most: wine country. That idea turned into the first Bluetongue beer.
The brand as now bolstered, becoming Australia's 6th biggest brewery.
The past year alone has seen over 700 brews, 60 million bottles and 62,000 kegs produced.
The brewery grew so much so, that it built a state-of-the art facility in Warnervale on NSW's Central Coast in 2010, to keep up with demand.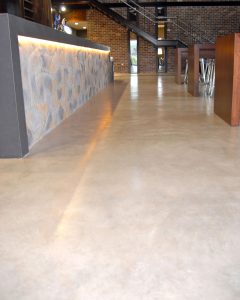 And to satisfy lured tastebuds, a "cellar door" style tasting room and bar was built onsite.
To remain in sync with the Bluetongue brand, a simple, stylish, functional modern flooring concept was dubbed the only option.
As a flooring and wall solution specialist, Honestone was brought on board to achieve just that.
Honestone Director, Rick Hendriks said the Bluetongue crew opted for a cream polished concrete look in a simple grey colour, where you could see no aggregate, just a sleek polish on the surface.
"It's one of those finishes that you have to be particularly careful with to get an optimum result," Mr Hendriks said.
"There's a lot of responsibility that goes with the placement of the concrete, so I always go onsite to ensure it's done properly by concretors, until it's literally finished".
"Protecting the floor is a must".
"We then came on site to polish the concrete, and give it a great finish."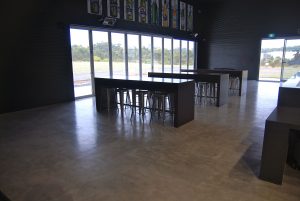 Behind the modern bar area, Mr Hendriks said Honestone used a non-slip epoxy to meet Work Health and Safety (WH&S) regulations.
He said the edging, where the floor met the wall, was also curved and seamless, to make for easy cleaning.
Carlton United Breweries Bluetongue Brewery Administration Manager Cass O'Neil said the final look of the "cellar door" bar and entertainment area was spot on with what the beer giant was hoping for.
"Honestone recently provided the finished floor surface to the new reception centre at Carlton United Breweries Bluetongue site in Warnervale," Ms O'Neil said.
"The team at Honestone were great to deal with, providing guidance on the work required, prompt service and a happy team on site".
"The honed and polished concrete floor gives the centre a fantastic look and feel. "Happy to recommend using Honestone for all your flooring needs."
Mr Hendriks said Honestone had fitting materials for a plethora of environments including the hospitality industry, manufacturing, shopping centres and commercial spaces, offices, architectural residential projects, and many more.
To discuss how Honestone can enhance your space, telephone us on (02) 4353 0055.