[rev_slider alias="Polished_Concrete"]
Polished concrete floors are durable, low maintenance, seamless, hygienic and environmentally friendly. However, there are fundamental differences in the treatment, appearance, lifespan, durability and initial cost of a polished concrete floor.
We are able to offer various levels of innovative polished concrete systems.
The Standard Service
Our "standard grind and seal" service is the method of grinding a concrete floor to the desired aggregate exposure (or often no aggregate is exposed), then applying a clear resin top coat. Resin sealers exist as water or solvent based acrylic, polyurethane or epoxy and are available as matt, satin or gloss.
Whilst the floor will be smooth and flat any holes, cracks and imperfections will be noticeable.
External polished concrete, or "honed" concrete, utilises the same grinding methods, however, to maintain a certified slip resistant surface we use an impregnating sealer to provide stain protection.
---
The Deluxe Service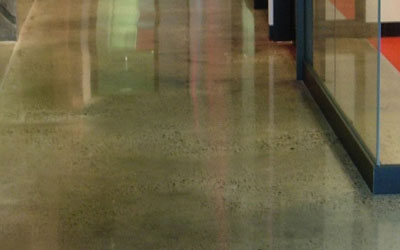 Honestone's "deluxe grind and seal" service, is a further refinement from our standard system and involves grouting the floor to minimise any holes or cracks. Various first quality resin sealers are then used to provide a barrier to protect the concrete from food and chemical penetration.
---
The Premium Service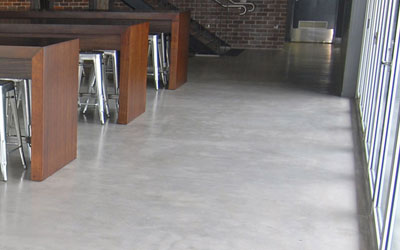 Our "premium polished concrete" is the ultimate in concrete floor refinement. Using premium concrete densifiers and impregnating sealers, together with the most experienced diamond polishing operators, Honestone is raising the bar for our competition. Honestone's premium diamond polished concrete treats the concrete floor with a deeply penetrating densifier, chemically reacting within the concrete to make the surface harder, stronger and far more resistant to abrasion. Matt, satin or high gloss levels are achieved by diamond polishing the treated surface.
Remember, if you are considering installing a concrete floor to be polished, speak with your preferred polishing contractor at the earliest stages of your project; there will be particular placement guidelines critical to your preferred finish.
Polished concrete selection made easy
Step 1
If possible, for new floors select concrete colour and aggregate.
Step 2
Type of aggregate exposure eg. cream polish (no exposure), salt and pepper, hit & miss or fully exposed.
Step 3
Level of finish eg. which resin top coat, or premium polished in matt, satin or gloss.
You may want to change the color of your existing concrete floor, or require a thin polished concrete topping? Discover Pangaea »
Polished Concrete FAQ
Can you polish an existing concrete slab?
Yes! If you want a fresh, cutting-edge look Honestone can polish your existing slab and create a new, contemporary and ow maintenance floor. The overall look will depend upon the type of concrete and hardness (MPA) of the slab, the aggregate and condition of the slab.
Is a polished concrete floor slippery?
Not necessarily, the surface can be made non-slip. This is governed by the method of grinding and sealers used. Honestone is experienced in public areas, such as walkways, parkways and communal recreational spaces.
Can I choose the aggregate for a new concrete slab?
Yes! If you are laying a new concrete slab, you will be able to select a cement colour combined with various aggregates to your liking. You will need to discuss these options with your supplier.
Is there an alternative to the exposed aggregate look?
Yes! The depth of the grind can give different levels of aggregate exposure in the final finish. A non-exposed aggregate finish can be achieved, however the surface needs to be in excellent condition.
Can I colour my polished concrete floor?
Yes! If you are laying a new slab, there are different cement colours to choose from, which you will need to discuss with your concrete supplier.
What is the function of a sealer?
Sealers prevent staining of the surface and assist with cleaning. Sealers can also help enhance the colour of the polished concrete finish.
What is the grinding process?
Diamond grinding or honing is the process of removing the surface layer of concrete, leaving the aggregate exposed to a smooth, matt, low maintenance finish, or grinding without exposing the aggregate.
Grinding marks will often be visible resulting in the need for the use of progressively finer grinding pads. Depending on the aggregate and level of grinding the concrete, a polished finish or high lustre is able to be achieved by this process.
Is there much dust when you grind and polish a slab?
Our machines have a dustless vacuum system. Dust is kept to a bare minimum. However due to the nature of this work, there will always be dust.
How much does polished concrete cost?
The price varies according to the condition of the slab, the size of the area, the level of grinding required, the aggregate exposure and the sealer. Polished concrete is a cost effective alternative comparable to timber, tiles, carpet, vinyl, pavers, stencil crete, etc. Prices to suit your particular project are available on enquiry.
When should I liaise with a concrete polisher?
At the very earliest planning stage is best, so we can provide you with cost effective solutions.
At what stage should concrete polishing commence?
The first cut preferably should be done just before the frame goes up. This way we can get right up to the edges. We then do a final cut and polish after the walls are complete, but not painted. The concrete will need to be covered during the building process to prevent staining from other trades.
How regularly do the floors need to be maintained?
This depends on the amount of traffic on the floors. In a residence, with the right combination of sealers, your floors may need resealing and rebuffing in approx 5 to 10 years. In a commercial environment, such as in restaurants, we recommend the floors be resealed and rebuffed every 12 months. We offer this service at a minimal cost.
How long will concrete polishing take?
There are many factors that will impact the time frame, these are the condition of the slab, the finish required, accessibility of the area, preparation of the slab and the number of men and machines available. Honestone is experienced in delivering projects under tight scheduled and we have completed small projects in two days and large scale (9000sqm) commercial jobs in six weeks.
Polished Concrete Floors, Polishing in Sydney